As a psychologist I am meant to say, "Don't use screens as babysitting devices. "
However, as a mum of 3, that would be hypocritical, as I have done it myself.
While I was feeding baby number 3.
When I was exhausted and needed a short nap.
When I needed to cook a meal without 3 sets of hands in the mixing bowl.
Of course the key here is balance, but what does that look like exactly?

To help us on that, the journal of 'Pediatrics' (US spelling) released their policy on 'Children, Adolescents and Media', just 3 days ago. And only a week ago I attended the Australian Internet Governance Forum (auIGF) in Melbourne.
These are some key ideas by professionals around the world:
Media

- defined as anything from television to new media (including cell phones, iPads, social media). All are recognised as a dominant force in children's lives, with television still the predominant medium (one-third of TV programming is viewed on alternative platforms e.g. computers and tablets).
Despite all of the new technology, many parents still seem to have few rules about use of media by their children and adolescents. In a recent study, two-thirds of children and teenagers reported that their parents have "no rules" about time spent with media. (Wow!)
Although media is not the leading cause of major health problems, the evidence is now clear that it can and does contribute substantially to many different risks and health problems of children and teenagers.
As I see it, there are many risk factors that we cannot immediately change in a child's life, yet media is one we can do something about.
What we know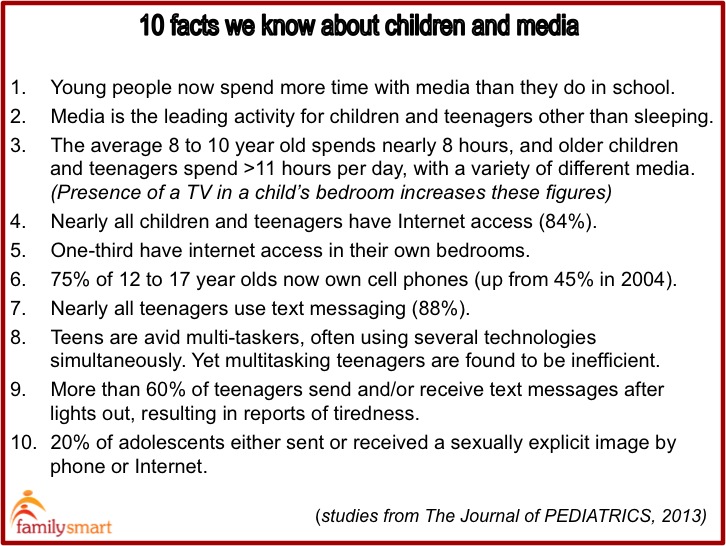 Guidelines:
for allied health professionals (as recommended by the American Academy of Pediatrics):
Provide age appropriate media counselling for families, at every opportunity.
Ask 2 or 3 media questions e.g.
How much recreational(passive) screen time does your child or teenager consume daily?
Is there a TV set or an Internet-connected electronic device in the child's or teenager's bedroom?
Take a more detailed media history with children and teenagers who demonstrate aggressive behaviour, are clinically obese, use tobacco, alcohol or other drugs, or have difficulties in school.
Keep up-to-date with the latest media devices and types of games that children and teens use.
Also, positive information about adolescent health is increasingly available through new media, including YouTube videos and campaigns that incorporate mobile device driven messages. It may be a good idea to make use of these resources with young people.
for parents (from the AAP and auIGF):
Model active parenting by establishing a Family Media Plan. As part of the plan;
Enforce a mealtime and bedtime "curfew" for media devices, including cell phones.
Establish reasonable but firm rules about cell phones, texting, Internet, and social media use.
Limit the amount of total entertainment screen time to approximately 1 to 2 hours per day.
Discourage screen media exposure for children under 2 years of age.
Keep the TV set and Internet-connected electronic devices out of the bedrooms. (See my reasons for this here)
Monitor what media your teens are using and accessing, including any Web sites they are visiting and social media sites they may be using.
Co-view TV, movies, and videos with children and teenagers, and use this as a way of discussing important family values.
Encourage young people to seek out trusted adults when they feel concerned or uncomfortable.
Use the K-mart intervention method! Buy a $2 alarm clock, not a mobile phone, to wake your teen.
Be aware that violent games and pornography often lead to further issues (will elaborate in later posts).
Encourage other offline activities.
This overwhelming saturation of media into children's and teenagers' lives demands an ongoing commitment to changing the way paediatricians, psychologists, parents, teachers and society address the use of media. Commitment to mitigating potential harm, while fostering positive media use is now mandatory.
The online world and media devices are wonderful tools for enhancing learning and socialisation. But children need a combination of; active parenting, face-to-face discussions about risks and appropriate behaviours, and opportunities to practice new skills. These cannot be learned from a screen alone  - Balance.

See also
Why technology needs to be out of bedrooms
Online addiction and kids – fact or fiction?
Children, Adolescents, and the Media - COUNCIL ON COMMUNICATIONS AND MEDIA (Pediatrics; originally published online October 28, 2013)